Business owners are constantly looking for new ways to reach out to their target audiences without having to spend much for promotional activities. The main motive of every business is to gain maximum visitors to their website which will in turn increase overall sales. One of the most effective ways to improve sales is with the help of best quality relevant content.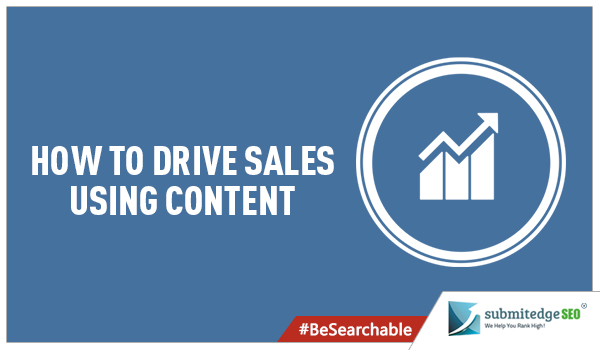 There are numerous ways in which content can be used to drive sales for a brand. The first aspect to be considered is giving your audience what they are looking for. You need to put yourself in the place of your audience to understand what they want and provide it in an easy manner. When users search for something online, they are mainly looking out for complete information about a product or service which will help in their purchase decision. Good quality information is the best way to create interest in the user which keeps them glued to reading your content for a long time, sharing it and also revisiting the page. This content can be shared with users in various ways.
Along with what is being searched for, it is important for you to understand how they look for it. Keyword research will help to identity this. Most queries looked up by a major portion of the audiences starts with how to. Having how to articles put up will surely help to boost sales.
Having guest blog posts can help gain the trust of visitors as this would give them information in the form of personal experiences, creating a better impact.
Creating eNewsletters and linking them to your blogs, articles or details about products or services can help to keep audiences informed about latest happenings in your business and the industry in general. This helps to retain constant interest in your brand.
Conducting online surveys is a great way to collect information and also know what is there in the minds of your audience. This can be shared in the form of blogs or articles with your customers providing them with facts that they are looking for.
Create a FAQ section that actually adds up value to your website by solving the top common complaints or queries satisfactorily which makes the searching process easier for visitors. They show trust in your brand as they are convinced that you understand their needs.
Use  to effectively spread the word about your brand by adding appealing and interesting content which is shared by users. This gives instant reach to wide audience.
Putting forward information in the form of an infographic creates a better impact as it makes the search process easier and interesting for audiences. This interest is sure to make users revisit your website and result in increasing sales.
Launching an e-book will help reach out to audiences by providing them with as much information as possible.
Keep updating content regularly by adding new information and also adding to what is already there.
Giving your audience what they require is the key to driving sales by making use of content. Rather than making it more sales focused, keep it customer focused to satisfy them and in turn encourage sales. Good quality relevant content creates a good image among major search engines which will bring your website higher on search results. It will help reach audiences when they are making a purchase decision and draw them to your products.